Hannah and Sabrina put together their own story box after watching Pinky Dinky Doo. They were on a real kick watching this show and love to tell stories just like Pinky.  They found two cardboard moving boxes and we taped them together so they could both fit inside. Now they can use chalk to draw pictures of the stories they tell, and it erases really well by wiping with a dry cloth. Who needs a chalkboard?  So clever.
Read More
We took an afternoon to have lunch with Dad at his new office building. We also stopped by the employees store and saw an outdoor stage set up for the holidays. So we got this picture.  The lighting isn't good, but it was a fun little outing.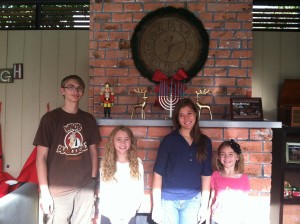 Christmas morning in the new pajamas. It was a great, relaxed day. We opened presents for a long time and then tried them all out.  The highlights were Sabrina's bike, Hannah's Art Easel, Emma's fashion package gift (clothes, accessories and some spending money), Hunter's science kit package (many little science things to build, a Mythbusters t-shirt, a genius book, and some spending money).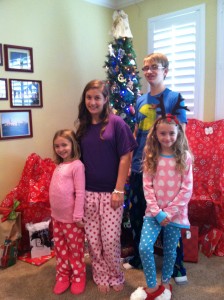 Read More